EDL 'outsiders should not come to Hyde'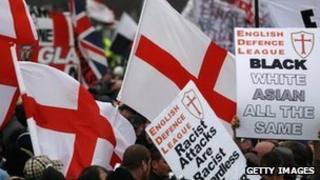 A council leader has said he does not want "outsiders" in a Tameside town for a planned march by the English Defence League.
The group has formally notified Greater Manchester Police it plans to hold a demonstration in Hyde on Saturday.
Councillor Kieran Quinn said Tameside Council could not allow the march.
"This is about a hate-filled group wishing to come to Hyde to try and incite hatred and we will not support that," he said.
The BBC has made repeated attempts to contact the EDL, but has not yet received a response.
Mr Quinn said the council would write to the home secretary seeking a ban on the demonstration, which he said would be "the right thing".
"Hyde is a diverse and peaceful community and we don't welcome outsiders coming in whose only intention is to incite hatred.
"We are not against peaceful protest, but people need to understand this is about a hate-filled group wishing to come to Hyde to share that hate and try and incite hatred, and we will not support that regardless of what group that comes from."
He said that the march was "too big a risk to the Hyde community and the Hyde town centre".
'Increased police presence'
Chief Constable Peter Fahy said the force would discuss the possibility of supporting a ban application with Tameside Council, but added "the home secretary only uses this power to ban marches on very limited occasions".
Assistant Chief Constable Terry Sweeney said the force had received formal notification from the EDL it intended to demonstrate in the town.
He said the force supported the council in promoting community cohesion and said it understood the "distress" a procession may cause the local community.
"GMP respects everyone's right to peaceful protest, while at the same time ensuring minimal disruption to our local communities."
He said that if the march did go ahead, there would be an increased police presence in the town centre and surrounding areas to manage the demonstration.
The protest follows an alleged attack by Asian youths on two white teenagers in the town earlier in the month.
Two youths were allegedly attacked by a gang of Asian youths in Market Street on 4 February.
Police have said they are treating the incident as a hate crime because the teenagers believe it was racially motivated.
The EDL said on its website the march was a national protest against extremism.
It said groups with a history of racist ideas would not be welcome at the demonstration.