Alexandra Singer: Debut novel from brink of death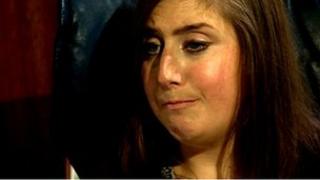 Four years ago trainee lawyer Alexandra Singer was in a coma on the brink of death after being struck down with a rare disease.
But next month her debut novel is published - a story which had been wiped from her memory by an attack of the autoimmune disease cerebral lupus.
Tea At The Grand Tazi, inspired by a trip she had taken to Morocco, had already been sketched out as an embryonic novel when Ms Singer was left in a coma for three months by the illness.
"I was in a lot of pain, I was still very sleepy and was on a lot of medication," said 29-year-old Ms Singer, from Cheadle Hulme.
"I think it may have been two months after I came out of the coma and I asked my family if I had been writing a book."
She added: "At the time I didn't know if I had dreamt it or imagined it."
Her brother Joshua discovered the manuscript while clearing her flat in London and it was at her family's encouragement that she resumed the writing.
'Gave me a reason'
"At that time I was still very weak and having medical procedures, I was completely bed bound and my hands still weren't working," she said.
"I was excited when my brother brought the script to me in hospital and the prospect of finishing it inspired me to 're-learn' to write.
She added: "The book is set in the evocative landscape of Marrakech, Morocco and follows a young expat Maia who struggles to take control of her life, after succumbing to the seedy underbelly of the city.
"I was travelling a lot before I fell ill and met many unusual people - expatriates running away from their lives in the UK - which is what influenced the book."
Desperate to get her hands working again, she set herself a target of writing a certain number of words a day alongside her intensive physiotherapy.
"Creating this world in the middle of my despair - I was in hospital for two years - actually gave me a reason to get up," said Ms Singer.
She added: "When I got to three-quarters of the way through I thought I have got to finish it, there is no way I can leave it."
Her big break came when she was runner-up in the Luke Bitmead Bursary competition, which was established to support young novelists in the memory of Legend Press author Luke Bitmead, who died young. A publishing deal with Legend soon followed
Ms Singer was initially told by doctors she might never be able to walk again, and spent months fighting paralysis, breathing through a tracheotomy tube.
Even now her mobility relies on either a zimmer frame or wheelchair but it is improving - and with more intensive physiotherapy and she is beginning to walk.
Motivated by her experiences in the NHS, she has now started a Master's degree in healthcare law and ethics at the University of Manchester's School of Law.
And - she says - is already working on her next novel.