Vinny Derrick 'may have been killed in a road accident'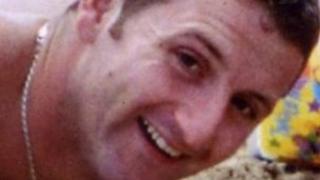 A man whose bones were found by the side of the M60 eight years after he went missing could have been killed in a hit and run, police have said.
The remains of Vinny Derrick, 29, from Partington, Greater Manchester, were found near junction 3 of the motorway near Cheadle on 15 February.
A post-mortem examination found the cause of death remains unascertained.
Police said he had broken bones consistent with a fall and may have been in a road accident.
Mr Derrick, originally from Leicestershire, was last seen on a night out in Manchester with colleagues in August 2003.
After a night at Jabez Clegg in the city centre, he had called his boss to tell her he was getting a taxi to her house where he was due to stay the night, but he never arrived.
His death is not being treated as suspicious, police said, and no further tests on the body will be carried out.
Det Ch Insp Sara Wallwork, of Stockport CID, said: "This remains a difficult and complex inquiry and the result of the post-mortem examination was never going to change that.
"Vinny's family have been informed of the result and we are continuing to provide them with support and will continue to update them.
"I am continuing to ask that anyone who has any information that could be of assistance to this investigation to please call us."
Mr Derrick's wife, Vicki, has campaigned to reform the law on missing persons.
She said the government should change the law to make it easier for families of missing people to deal with their affairs.
MPs have recently recommended a presumption of death act be introduced to clarify the legal position.