Police code-cracker helps jail Manchester gun pair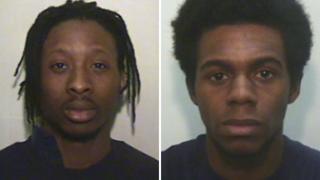 A code-breaker has helped in the jailing of two men involved in a failed plot to kill a man in a money dispute.
The forensic expert deciphered a code sent by Kieron Bryan to his sister while he was on remand which told of a plan to pay his victim off.
Bryan, 23, from Manchester was found guilty of attempted murder and jailed for 25 years at Manchester Crown Court.
His accomplice, Dean Fleming, 23, from St Albans, Hertfordshire was convicted of wounding and sentenced to 11 years.
'Devious lengths'
Both received concurrent sentences for possession of a firearm with intent to endanger life.
Police said Bryan, originally from St Albans, shot his victim in the chest and thigh in Blackley, Manchester, in March 2011, after the pair had an argument over money.
The victim, who worked as a doorman, was wearing body armour which stopped the bullet aimed at his chest.
Officers then arrested the pair and found gunshot residue on Bryan's clothing.
Whilst on remand awaiting the court case, Bryan sent a letter to his girlfriend with a code on the back which was intercepted by police.
A forensic linguist examined the numbers and found it was a message for his sister, asking her to approach the victim's employers with a view to paying them to persuade the man to drop the case.
Det Sgt Neil Haywood said the fact that Bryan was "prepared to go to such devious lengths to get out of jail shows he is a dangerous and calculating man".
"It was only by sheer luck the man was wearing body armour that he was not murdered," he said.
"The Major Incident Team launched a thorough investigation which involved painstaking work and we even brought in a code-cracker to decipher Bryan's letter.
"He failed to outsmart us and is now behind bars for a very long time - I can only hope today gives the victim some sense of justice."