Elizabeth Gaskell's house opens for history festival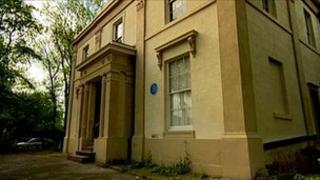 The former home of Victorian novelist Elizabeth Gaskell is opening to the public as part of a history event.
The Cranford author lived in the Grade II listed villa in Plymouth Grove, Victoria Park, Manchester, from 1850 until her death in 1865.
It is open to visitors on Sunday for the Manchester Histories Festival, which aims to reveal new and hidden histories across Greater Manchester.
The house, which was restored in 2010, will be open until 16:00 GMT.
Gaskell wrote most of her novels in the house and authors including Charles Dickens and Charlotte Bronte are known to have visited and stayed there.
Festival visitors can see slide shows and listen to readings from Mrs Gaskells' novels and letters.
Zoo open
There will also be tours of the house and activities for children.
Gorton Monastery and Belle Vue Zoo will also be open to visitors throughout the two-week event.
Other events include a talk on Clayton-born boxer Len Johnson, who fought in fairground boxing booths and professionally as a middle-weight, beating some of the best British and foreign fighters during the 1920s and 30s.
Festival director Claire Turner said: "The last time we did this was in 2009, when it was a two-day festival.
"This year, there will be 100 events over 10 days so it is a very different beast.
"It will take in many different areas and we have already had lots of expressions of interest."