Wesley Isherwood jailed for life for Brian Gavigan murder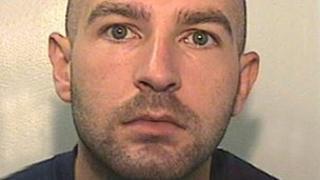 A 27-year-old man who battered and stabbed to death a man in a fit of jealousy has been jailed for life.
Wesley Isherwood, who admitted murdering Brian Gavigan, 48, in Prestwich on 4 September, was told he would serve at least 25 years.
Isherwood was jealous of Mr Gavigan's friendship with his girlfriend, Manchester Crown Court heard.
Andy Tattersall, of Greater Manchester Police, said: "This was a sustained and violent attack."
Isherwood lived in a hostel where Mr Gavigan had reportedly been helping out as a "Good Samaritan" as he had friends who also lived there.
Mr Gavigan was found in the early hours of Sunday 4 September at his home on Merton Road and, despite attempts to resuscitate him, was pronounced dead at the scene.
The force's major incident team said Isherwood, of Bury Old Road, was jealous of the victim over his friendship with his girlfriend and had warned him to stay away on the day before Mr Gavigan was found dead.
He later confided to a friend he had returned to Mr Gavigan's home and killed him.
Mr Tattersall, of the force's major incident team, said the attack left Mr Gavigan with a broken jaw, cuts on his neck and a fatal stab wound.
"I hope this sentencing provides the victim's family and friends with some sense of justice although they will never be able to fill the hole in their hearts that has been left following his untimely death," he said.