Bolton hospital oxygen pipe 'targeted by thieves'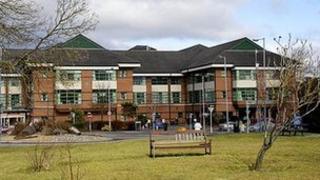 Thieves attempting to steal metal may have damaged an oxygen pipe which runs beneath the Royal Bolton Hospital, police say.
The damage was noticed during an investigation into the theft of metal and cable from the hospital grounds by Bolton NHS Foundation Trust.
The trust said oxygen supplies to patients were not affected.
Two men have been arrested on suspicion of a criminal damage offence and released on bail until 30 May.
Gary Raphael, deputy chief executive at Bolton NHS Foundation Trust, said it was working closely with the police.
He said: "We've taken measures to ensure no other parts of the pipe supplying oxygen to the hospital have been damaged and oxygen supplies to patients have continued as normal."
Supt Steve Nibloe, from Greater Manchester Police, said: "What this incident does show is just how potentially dangerous the theft of metal can be.
"It is a problem that Greater Manchester Police treats as a priority and the force has launched Operation Alloy to target those involved in stealing metal, and we have seen a significant reduction in the number of such thefts.
"Investigations are continuing."