Marillac House Homeless mums' hostel faces axe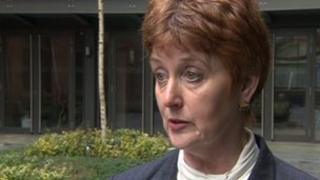 A hostel for homeless young mothers and their babies in Manchester is having to close after 30 years.
Manchester City Council is cutting funding to Caritas, the charity arm of Salford Roman Catholic Diocese that runs Marillac House.
The Labour council said the funding had been halted because of government cuts and other facilities were available.
"We don't believe that the need has disappeared," said Rosaleen Griffin, from Caritas.
"This will impact the future young women and babies who will not have the option of using Marillac," she added.
Marillac House used to receive £165,000 a year from the city council.
'Vulnerable women'
Judith Dudgeon, the team leader of the young parents service at Caritas, said a similar hostel in Bolton was facing the same future and the closures would leave some women in very vulnerable situations.
"The girls that have already left cannot believe it has happened," she said.
She added the move was short-sighted as the council might end up paying to accommodate children who could be taken away from mothers who used to live in the hostel.
Glynn Evans, Manchester City Council's executive member for adults, said: "Our Supporting People fund which helps the most vulnerable in our city lost a third of its budget following a change in the way the grant was allocated which we tried to mitigate by putting an extra £4m in the budget.
"However it is inevitable that the effects of the cuts on some of Manchester's most vulnerable and marginalized people will be devastating.
"There is alternative provision for teenage parents in the city and we are working with the provider Caritas to ensure that current residents are moved on appropriately."