Salford selected for lung disease treatment trial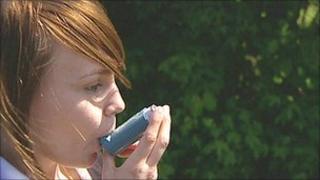 Salford has been selected for a large-scale trial of new medicines aimed at treating lung diseases like asthma.
Drug company GlaxoSmithKline is working with the NHS and The University of Manchester to compare a new treatment with those already on the market.
The Salford Lung Study will involve about 4,000 patients with chronic obstructive pulmonary disease (COPD) and 5,000 with asthma.
Patient recruitment for the year-long study is due to begin in March.
It is thought to be the first time people living in one place have been involved in a trial.
GlaxoSmithKline said about half of those involved will receive the new medicine and the other half will receive their existing therapies.
'Stable population'
Ashley Woodcock, Professor of Respiratory Medicine, said Salford was the ideal place to carry out the study.
"For the first time we are going to have an important measure of the lungs of Salford, we are going to see if we can impact on that in a real measurable way, to see if there are any benefits in this type of study," he said.
"This is a world first.
"Salford is a good place to do a study like this because first of all it has a stable population, very few people actually leave Salford, so you can monitor people for a long time.
"The second thing is because asthma and COPD are very common here, it is a generally urban environment, there has been a lot of pollution, a lot of people smoke."
Eddie Gray, President of GSK Pharmaceuticals Europe, said the study was designed to reflect the firm's commitment to develop innovative medicines".
"The Salford Lung Study is an excellent example of collaboration between industry, academia and the NHS and we're delighted to be working with the Salford health care community on this project," he said.