Anthony Grainger shooting: Police 'unlawfully killed my son'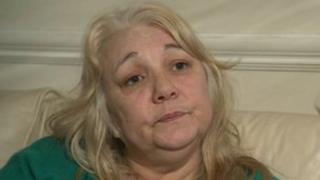 The mother of a Bolton man shot dead by police says she hopes an investigation will conclude police unlawfully killed her son.
Marina Schofield also said she would press for compensation over the death of her son in a Cheshire village car park on Saturday.
Anthony Grainger, 36, was shot in the chest during the operation in Culcheth.
The Independent Police Complaints Commission (IPCC) is investigating Mr Grainger's death.
"I want answers," she said. "And with every breath in my body, I will found out why they [Greater Manchester Police] have done it."
Mrs Schofield also said she intended to sue for compensation for Mr Grainger's two children.
"The two children have had their father taken away from them and there has got to be money put away for their lives."
No weapons
On Monday, the IPCC confirmed that two guns were fired during the police operation.
One round went through the windscreen and struck Mr Grainger while he was sitting inside a red Audi car in the village of Culcheth.
An initial search of the car found no weapons, according to the police watchdog.
Asked what she hoped would come out of the IPCC investigation, Mrs Schofield said: "If it comes out that this is unlawful killing, that's what I hope and pray for."
An inquest into Mr Grainger's death was opened and adjourned on Monday pending the findings of the IPCC investigation.
Three men have been remanded in custody by Manchester magistrates charged with conspiracy to commit robbery.