Soldier arrested after fatal stabbing in Droylsden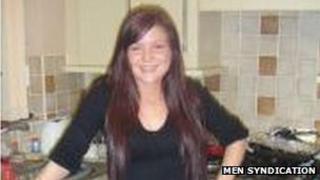 A serving soldier has been arrested on suspicion of murdering a woman in Greater Manchester.
Ian Lowe, 24, who serves with the 1st Battalion of the Duke of Lancaster's Regiment, was arrested after police found Leanne McNuff, also aged 24, on Mellor Street in Droylsden on Sunday.
She had been stabbed and was taken to hospital where she was pronounced dead.
A Ministry of Defence spokeswoman said she could not comment on the investigation.
She said that as "the matter is subject to an ongoing civil police investigation, it would be inappropriate to comment further".
Greater Manchester Police said a post-mortem examination was due to take place.
Det Supt Vincent Petrykowski said the investigation was in the "early stages" and that police were "working to establish the full circumstances of what happened".
"Our thoughts are with Leanne's family and friends at this time, who are understandably distraught that their loved one has been taken from them in this way.
"I would like to reassure residents that we do not believe there is any danger to the community."
He added that it was being treated as "an isolated incident" and urged anyone who might have seen something to get in touch.
The 1st Battalion of the Duke of Lancaster's Regiment is stationed in Somme Barracks, Catterick in North Yorkshire.