Kieran Large death: John Foster jailed for killing friend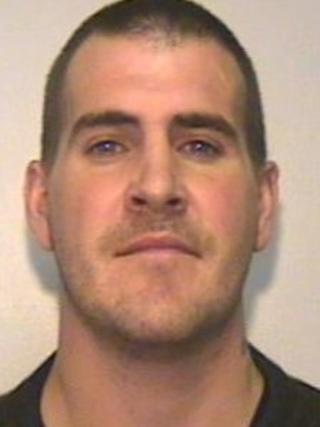 A man has been jailed for killing a friend who died nine days after he attacked him in a drunken row.
John Foster, 30, of Leigh, Greater Manchester, punched Kieran Large in the ribs and head at a flat in Richmond Drive in the town last September.
A post-mortem examination confirmed he died from internal injuries.
Foster was charged with murder but pleaded guilty to manslaughter at Liverpool Crown Court and was sentenced to four years and six months in prison.
Lancashire police said Foster had been at the flat on Richmond Drive with Mr Large and three other friends on 8 September.
The group had been drinking when an argument broke out, and Foster attacked Mr Large.
He punched him in the ribs and head several times, leaving him with a bleeding nose, swollen lip and cuts and scratches.
'No winners'
Foster, who lives at another property on Richmond Drive, then left the flat and returned a short time later with a bread knife.
The two fought again and Foster dropped the knife, but hit him in the head and he fell to the floor.
Over the next few days, a friend of Mr Large's visited him in his flat and noticed the swelling to his face.
Mr Large was found dead in the flat on 19 September.
Det Insp Iain Butler from the Major Incident Team said: "This is a tragic case of what can happen when alcohol dependency and violence mix.
"No doubt Foster will regret what happened that night for the rest of his life, and in addition to his prison sentence will have to live with the knowledge that he lost control when drunk and that ultimately led to Kieran's death.
"Although he has been convicted, there are no winners in this case just a tragic set of circumstances involving drink and violence.
"I hope it acts as a warning about what can happen when these two factors mix."