Kenny Dalglish wall grenade gang jailed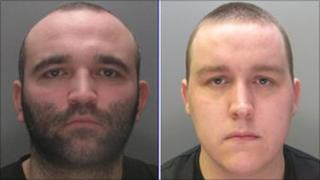 Five members of a gang who carried out a series of shootings and left a hand grenade on a wall at Kenny Dalglish's home have been jailed for life.
The group was led by Kirk Bradley and Anthony Downes, both 26 and from Merseyside, who escaped from a prison van in Manchester last July.
Bradley is still missing but Downes was arrested in the Netherlands on Friday.
They were jailed after being convicted in their absence of firearms charges at Woolwich Crown Court.
Both were found guilty of conspiracy to possess firearms with intent to endanger life and conspiracy to cause damage with intent to endanger life and ordered to serve a minimum of 22 years.
Three others admitted possessing firearms and causing criminal damage with intent to endanger life and were also jailed for life.
Van attacked
Gary Wilson, 27, of Promenade in Southport, was sentenced to a minimum of 16 years; Joseph Farrell, 23, of Brandearth Hey in Stockbridge Village, Knowsley, must serve a minimum of 12 years and Craig Riley, 25, of Boode Croft, also in Stockbridge Village, a minimum of 14 years.
Downes is due to be flown back to the UK to serve his sentence.
The court heard the home of a wealthy businessman living in the same street as Liverpool football manager Dalglish was the target of two shootings.
John Ball hired a security guard to keep watch on his home in Southport, Merseyside, following the attacks in March and June 2009.
He is also believed to have been the target of a failed grenade attack in July 2009.
The device was left on Dalglish's wall by one of two men who ran off when police officers arrived at the scene, the court heard.
'Very dangerous man'
The first trial of the gang collapsed after Downes and Bradley escaped from custody when the van they were travelling in was attacked by armed men last July.
Both were convicted in their absence at a retrial at Woolwich Crown Court last week.
Merseyside Police said Downes was arrested in Amsterdam on 9 March on suspicion of possessing a firearm and as a result of an outstanding European arrest warrant.
The men, who described themselves as "blood brothers", ordered the numerous shootings and bombings between 2009 and 2010.
Judge Mr Justice Henriques said Downes was serving a seven-year jail term for multiple attacks on cash machines but had been the "chief executive controlling and organising events from his prison cell".
Downes was arrested last week in Goes, Zeeland, while checking into holiday accommodation. He was caught with a loaded .44 Magnum revolver and two fake passports.
The judge said Bradley, who was first convicted of robbery aged 15, was "plainly a very dangerous man".
"There is a serious risk to members of the public of serious harm being occasioned by him."
He added: "Any right-thinking member of the public would feel abhorrence and outrage at this merciless campaign which Bradley oversaw and co-managed."
Det Ch Supt Tony Doherty, of Merseyside Police, said: "Anyone using firearms mean to kill, and if they are not going to kill their adversaries, they are going to kill members of our community.
"Nobody can stand by, we need to say enough is enough."