Greater Manchester's £10m youth mental health centre plan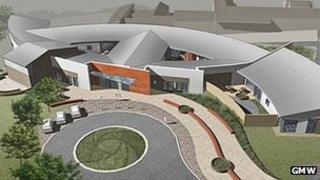 A NHS Trust has revealed plans to build a £10m centre to help young people with mental health problems in Greater Manchester.
Greater Manchester West Mental Health NHS Foundation Trust (GMW) is working with architects to create a new centre that will care for 13 to 18 year olds.
The centre is intended to replace the adolescent units in Prestwich, Bury.
Director of nursing and operations Gill Green said it would "have a real impact on recovery and mental wellbeing".
A GMW spokesman said the facility, which will be built on the site of the existing units, would provide a variety of mental health services for young people, including support groups, occupational and art therapy and community assessment and treatment.
He said it would also house the inpatient adolescent service currently based in Prestwich and provide 20 bedrooms with en-suite bathrooms in a "state-of-the-art unit".
He added that plans for the centre, which he said was "a first for the local area", were formulated in response to "the need to improve and modernise children's services as recommended by clinicians".
Ms Green said the new facility would make a big difference to mental health care in Greater Manchester.
"The condition of the clinical environments has a massive influence on how patients feel," she said.
"Research has even suggested that recovery times can improve when patients are cared for in an attractive and therapeutic environment.
"This is equally true in the care of people with mental health problems, so dramatically improving the unit where we treat young people with a range of mental health conditions will have a real impact on their recovery and mental wellbeing."
She added the new centre would allow the trust to "focus intensively on children and young people with the most severe mental health problems".
"The centre will be the base for staff with specialist knowledge of young people's mental health needs and will create a pool of expertise," she said.