Tim Burgess 'honoured' to create Diamond Jubilee throne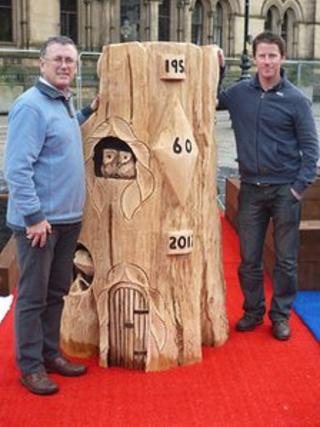 A Cheshire artist has said he feels "very honoured" to have made a throne for Manchester's Diamond Jubilee celebrations.
Tim Burgess' Oak Leaf Throne will be the centrepiece for a city centre garden celebrating the Queen's visit to the city on Friday.
The throne has been installed in the temporary garden in Albert Square.
The Knutsford sculptor, who creates with his brother Andy, said the work had been "a team effort".
The throne has been carved out of a fallen beech tree from Wythenshawe Park.
The artist, who creates his work using a chainsaw, said it included images relating to Manchester and the Queen's Diamond Jubilee, as well as some more fantastic sculptures.
Frog and fairies
"The beech log has an oak leaf seat sculpted into it and on the rear, there is a diamond shape with 60 and the dates 1952 above and 2012 below," he said.
"There is also the beehive and some bees from the Manchester City Council emblem.
"And, as the throne will be auctioned later this year for the Lord Mayor's Charity, there are a few smaller things that would appeal to young children; two owls in a nest, a frog peeping out of a hole and a doorway - which fairies might live inside."
The throne, which took six weeks to create, is the one of several sculptures the brothers have created for councils and charities across the North West.
Others included a memorial to recipients of the Dickin Medal - the animal equivalent of the Victoria Cross - in Stockport's Woodbank Memorial Park and a family of owls in a communal garden area in Coppull, Lancashire.
The brothers create sculptures from tree stumps and logs from trees that have had to be removed because they were diseased or dangerous, a process which Mr Burgess said gives "a new life to old trees that would otherwise be cut up for firewood or left to rot".