Ban for man who killed Gerrard Hardy in Gorton crash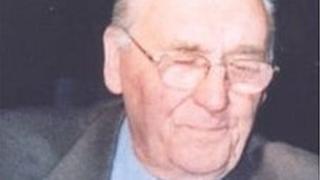 A man who killed an elderly man in a road crash in Manchester has been banned from driving for three years.
Liam Bertenshaw, 20, of Moston Lane, Manchester, was driving a Suzuki wagon when it struck Gerrard Thomas Hardy, 78, on Hyde Road, Gorton, last April.
He was found guilty of causing death by driving without due care and attention at Manchester Crown Court.
Bertenshaw was ordered to carry out 200 hours of community service and placed on a 12-month supervision order.
Mr Hardy was hit by the car on the road where he lived at 22:50 BST on 3 April last year.
He was taken to hospital with serious injuries but died a short time later.
PC Harvey Birtwistle said: "Just prior to the collision, Gerrard had seen Manchester City beat Sunderland 5-0 at Eastlands with all his family and was a life-long Manchester City supporter.
"His ashes are now scattered in the memorial ground at Eastlands and Manchester City sent flowers to the funeral.
"This is a tragic case that once again shows how vitally important it is for motorists to give their complete and unreserved attention while driving on the roads."