Chetham's School of Music opens £31m extension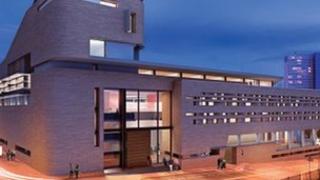 Chetham's School of Music in Manchester is officially opening a new £31m extension.
The new building lies between the original medieval site, which dates back to 1421, and Victoria Railway Station.
Spanning seven floors, it took two years to build and includes two performance spaces, four ensemble rooms and an outreach centre.
A steel footbridge across the culverted River Irk links the two buildings.
Head teacher Claire Moreland said: "We seized a once in a lifetime opportunity to acquire the land adjacent to our current site in order to build a facility that will enable us to become known as the best music school in the world."
The new building has 50 music teaching rooms, 62 practice rooms and a music technology centre.
An outreach centre will allow the school to continue working with community groups, young musicians and people who use music as a form of therapy.
Chetham's hopes eventually to open a visitor attraction based around its medieval buildings.