Greater Manchester tax cash back jobs 'to fund growth'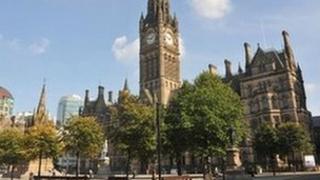 Thousands of new jobs and apprenticeships could be created in Greater Manchester under a government tax scheme.
The region could "earn back" a chunk of the extra taxes generated by its spending on infrastructure projects.
This package, from the Association of Greater Manchester Authorities (AGMA), will allow councils to keep a certain amount of business taxes.
Spending this cash would be decided locally not centrally.
The scheme is one of the City Deals announced by the government in December, offering the councils of England's eight largest cities funds from government to use without Whitehall interference in an effort to stimulate growth and regeneration.
AGMA estimates that the City Deal initiative will lead to 3,800 new jobs for local people and protect 2,300 existing jobs.
The money would be targeted at transport, housing, skills ,training, business growth and low carbon measures.