Surgeons save man's arm cut off in saw accident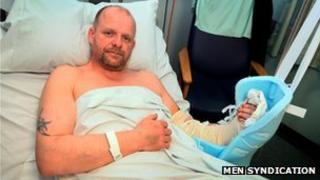 A retired fireman from Rochdale has had his arm sewn back on after he cut it off with a circular saw, a hospital has confirmed.
Stuart Frain, 50, was working in his garden in Smithy Bridge on 16 March when the accident happened.
His left arm was left hanging by the skin below the elbow, but he managed to summon help and create a tourniquet from a dog lead and a stick.
Surgeons at Wythenshawe Hospital later spent seven hours re-attaching the arm.
'Extreme pain'
Vivien Lees, who led the surgery team, said it showed incredible presence of mind for Mr Frain to perform first aid on himself.
She said: "He was on his own when it happened, in a very remote location.
"It was a desperate situation, he had to think quick, hold his arm on and carry it some distance.
"I don't know how he did it, he had the tourniquet on for over four hours so he was in extreme pain.
"He's already moving his fingers a bit, but he won't be able to have feeling in the hand for at least six months."