Manchester council funds Diamond Jubilee street parties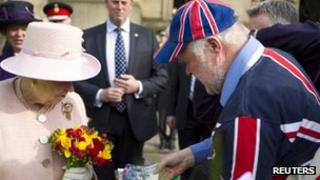 Manchester City Council is to provide funding for street parties to celebrate the Queen's Diamond Jubilee.
Grants of up to £200 will be available for neighbourhood events taking place between 1 and 5 June.
Sue Murphy, Manchester City Council's deputy leader, said it was an "ideal opportunity" for people to "demonstrate pride in their communities".
Applications for funding from the Manchester Diamonds Celebrations scheme can be made from 12 to 30 April.
The Queen, accompanied by the Duke of Edinburgh, visited Manchester and Salford as part of her Diamond Jubilee tour on Friday.
She opened the BBC's new Salford base in the MediaCityUK complex and also visited Royal Manchester Children's Hospital, the Royal Eye Hospital, Saint Mary's Hospital and a new wing at the Royal Infirmary.