Cheshire rape victim service expanded to self-referrals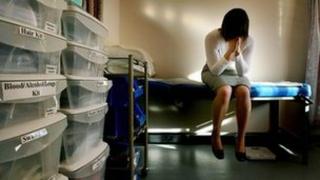 A service for rape victims in Cheshire, including those as young as 13, has been expanded to deal with self-referrals.
The Rape and Sexual Abuse Support Centre (RASASC) for Cheshire will work with St Mary's Sexual Assault Referral Centre (SARC) in Manchester.
The service was previously only available to people who reported rapes to the police.
The Cheshire centre will give support and counselling to self-referrals.
St Mary's will provide forensic examinations for victims of all ages as well as aftercare for those aged under 13.
The Cheshire service's link with Manchester is a joint initiative from local councils, Cheshire Police and primary care trusts.
It builds and expands on the work of the Sexual Assault Referral Centre (SARC) for Cheshire which was established initially for police referrals only in 2011.
The RASASC will provide counselling, Independent Sexual Violence Advisor (ISVA) support, young people's services, confidence building courses, advice, information and advocacy.
Bernie Ryan, manager at St Mary's, said: "Since the Cheshire SARC service opened we have seen a total of 146 cases and had an extremely positive response, not just from Cheshire residents but also from the partners that have helped develop and fund the service."
The Chief Constable of Cheshire Constabulary, Dave Whatton, said: "The support and care for survivors of rape and sexual offences is absolutely vital to both their recovery and an opportunity to gather the best possible evidence to support a prosecution."