Vinny Derrick funeral held in Altrincham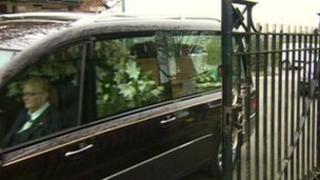 The funeral of a man who went missing on a night out in Manchester over eight years ago has been held in Altrincham.
The remains of Vinny Derrick, 29, from Partington, Greater Manchester, were found near junction 3 of the M60 motorway near Cheadle on 15 February.
Police believe Mr Derrick, originally from Leicestershire, could have been killed in a hit-and-run.
Reverend Olwyn Marlow, who led the service, said it was "the beginning of a new chapter" for his family.
"They can close the eight years that Vinny was missing, put him to rest and know where he is, so they can put flowers on the grave," she said.
Mr Derrick was last seen on a night out in Manchester with colleagues in August 2003.
After a night at Jabez Clegg in the city centre, he had called his boss to tell her he was getting a taxi to her house where he was due to stay the night, but he never arrived.
Mr Derrick's wife, Vicki, has campaigned to reform the law on missing persons.
She said the government should change the law to make it easier for families of missing people to deal with their affairs.