Salford mayoral election nominees announced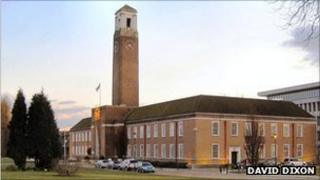 Nominations for Salford's first directly elected mayor have closed, with 10 people announcing their intention to run for the position.
Nominees include representatives for the three major political parties, as well as the Green Party, the British National Party, the English Democrats, UKIP and the Community Action Party.
There are also nominations for two Independent candidates.
The mayoral election will take place on 3 May.
Existing Salford councillors Karen Garrido (Conservative) and Norman Owen (Liberal Democrats) will represent their respective parties in the election, while former Eccles MP Ian Stewart is Labour's candidate.
Last year's Manchester Pride parade queen Michael Felse is running for the English Democrats, while former Liberal Democrat councillor Joe O'Neill has been put forward by the Green Party.
Bernard Gill has been nominated by UKIP, Edward O'Sullivan is the British National Party's nominee and Michael Moulding will run for the Community Action Party.
The Independent nominees are Salford security firm boss Paul Massey and former council employee Pat Ward.
Nominees have until 11 April to rescind their applications to run.