Surprise inspection for Stepping Hill Hospital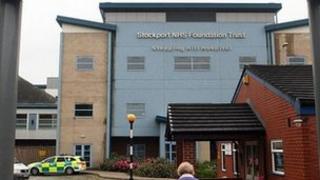 A government hospital watchdog has confirmed it carried out a surprise inspection at Stockport's Stepping Hill Hospital.
Inspectors from the Care Quality Commission (CQC) visited the hospital in Greater Manchester in March.
Stepping Hill remains at the centre of a police investigation into 22 suspected cases of insulin poisoning.
The inspectors looked at patient care and welfare, medicines management and the monitoring of service provision.
A CQC spokesperson said: "The CQC carried out an unannounced inspection at Stepping Hill Hospital on Monday, March 26.
"The CQC will publish full details of the inspectors' findings from this visit in a review of compliance on its website in the near future."
Police believe somebody at the hospital injected saline with insulin, poisoning 22 patients.
Hospital managers said safety procedures had been reviewed since the contamination was discovered and saline was now kept locked away.
A spokeswoman said: "We can confirm that we have had a visit from the Care Quality Commission and are currently awaiting their report.
"This visit was part of the CQC's annual programme of inspections which are carried out nationally.
"Our services and care are constantly reviewed, but it is always helpful to have others assess these areas. This helps us to keep improving what we do and ensure we provide the highest quality care."