Stalybridge railway station begins £20m upgrade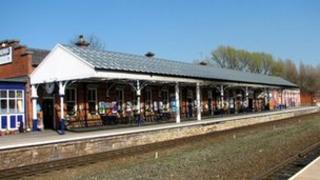 A £20m overhaul to prepare a Greater Manchester railway station for the electrification of the Leeds to Manchester rail line in 2016 has begun.
The upgrade at Stalybridge station will include new track and signalling as well as an increase in the number of platforms from three to five.
Network Rail said the track layout had remained unchanged since World War I.
It also said the revamp would see faster and frequent services pass through the station.
The upgrade was needed because the existing infrastructure was ageing and the line electrification was looming, Network Rail said.
Built by the London and North Western Railway, Stalybridge station was opened in 1845.