Salford plane crash: 'Aircraft had fuel supply problem'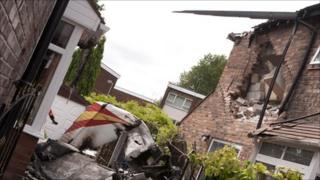 A plane which crashed into two houses in Greater Manchester, killing the pilot, had probably suffered a fuel supply problem, a report has revealed.
Ian Daglish, 59, was killed in the crash in Salford while another man, aged 19, suffered serious 60% burns.
Their light aircraft plunged into two homes in Newlands Avenue, Peel Green, on 29 July 2011.
The Air Accidents Investigation Branch (AAIB) said the Piper PA38 Tomahawk's engine stopped on take off.
Father-of-two Mr Daglish, from Alderley Edge, Cheshire, was an experienced pilot.
The plane's engine cut out shortly after leaving Manchester/Barton City Airport, at about 200ft (60m), said the AAIB report.
It stated that the plane rolled to the left, with the extension roof of the first house most likely being struck by the aircraft's right wing.
The burning plane's underside hit the side wall of a neighbouring house, coming to rest in a driveway between the two homes.
The AAIB report said: "The account of the passenger and the findings from the investigation support a fuel supply problem as being the most likely cause of the engine stoppage."
It added: "Although other potential causes for the engine stoppage could not be eliminated from the investigation, the most likely cause, based on the available evidence, was that stiffness of the fuel selector valve and wear on the rod connecting it to the selector handle, may have resulted in the valve being in an intermediate position during the take-off.
"This would have reduced the fuel flow to a level too low to sustain continuous engine operation."
The report also stressed: "The suddenness of the engine stopping and the limited time available to react to it probably resulted in the pilot omitting to lower the nose before the aircraft stalled.
"Once the aircraft stalled, it is highly unlikely that he could have recovered the aircraft in the height available."
Mr Daglish was a military historian and wrote a series of books about World War II battles. He described himself on his website as a "battlefield mythbuster".
Residents described the crash as "like a bomb going off".