Father appeals over missing wife and sons from Manchester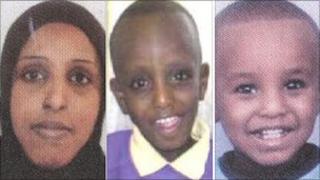 A father is appealing for his wife to get in touch two years after she disappeared with their two children, in breach of a court order.
Anisa Ibrahim, 31, from Withington, Manchester, and her children, Khalid, six, and Ahmed, five, have not been seen since April 2010.
She is wanted by police for ignoring a family court order.
The family was reported missing six days after the children were last seen by their father Abdul Abubakar.
Officers believe they are in Canada, possibly with the Somalian community.
Det Insp Kevin Marriott said: "However long it takes, we will continue to investigate this abduction until we have found the two boys and know they are safe and well.
"Understandably, Mr Abubakar is devastated by the fact he has not seen his two boys for the last two years and has missed out on such vital years in their childhood.
"We are still appealing to the Somalian community to come forward with any information they may have on the whereabouts of Anisa and the children and I would ask people to put themselves in Mr Abubakar's shoes."
Mr Abubakar said: "I appeal to Anisa, please contact the authorities wherever you are with the children so I can be informed they are okay."