Manchester Wheel makes way for Olympic screen in Exchange Square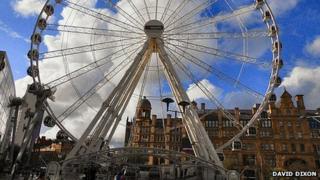 Work has begun on dismantling a giant wheel in Manchester's Exchange Square to make way for Olympic events.
Great City Attractions, which operates the Manchester Wheel, said it had been unable to find an alternative site for the attraction.
Exchange Square is to be one of 22 national Olympic sites featuring a big screen showing live action.
The wheel, which opened in 2007, drew in about 500,000 visitors each year. It is to be moved to a site in Edinburgh.
John Lowery, operations manager of Great City Attractions, said: "We tried to move to Piccadilly Gardens but couldn't because Manchester City Council wanted to keep the space open.
"We have a great relationship with the city council and when there is an opportunity to move back, we will."
The Exchange Square big screen will show continuous Olympic Games coverage.
The square will also have food and drink stands and sporting activities.
Organisers expect about 500,000 people to visit during the Games.
The square will open in "Olympics mode" on 26 July, when the first Olympic football match takes place at Old Trafford, and operate through to the closing ceremony on 12 August.
Exchange Square will also be the focus for the Queen's Diamond Jubilee screen events and Royal Opera House screenings.
The Uefa 2012 European Championships, Wimbledon, pre-Olympic Games test events and Paralympic Games will also be shown.