Manchester Cathedral's cafe helps unemployed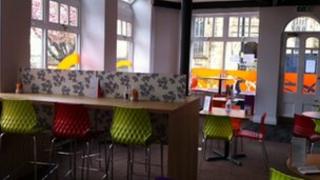 Unemployed and homeless people are being given the chance to change their lives through a scheme at Manchester Cathedral's cafe.
Catering business Create reopened the cafe, inside Manchester Cathedral Visitor Centre, on Tuesday.
They are offering trainees a chance to learn the catering trade while working there for three months.
Create is a social enterprise which also works in Leeds, Doncaster, Sunderland and Salford.
'Lives shattered'
Cathedral spokesman Anthony O'Connor said that although the cathedral had initially run the cafe, they wanted a new partnership to help the unemployed people of Manchester.
"People can come in and have a tea and scone in a cafe with great hospitality making a difference in people's lives," he said.
"Create is helping people overcome the barriers of homelessness and unemployment which, from a church's perspective, these are the exactly the issues we are working with."
The company takes on 50 trainees every 12 weeks and, through its training academy, they work towards a qualification in Food Safety.
Last year, Morrisons supermarket guaranteed 1,000 jobs for people who came from Create's academy.
Lucy Campbell, of Create, said: "When people come into our restaurant or cafe we do like to challenge them and say: 'spot our trainees'.
"Nine times out of 10 they can't and that's so rewarding for us.
"These are a group of people who, for one reason or another, have fallen on hard times.
"They've had their lives shattered and they need a place where they can rebuild hope, rebuild confidence and get real work skills."
Create started as a catering company in the kitchen of a night shelter in 2007.
It now helps more than 1,000 people every year.
The Cathedral Visitor Centre was opened by Queen Elizabeth in 2002.