BBC Radio Manchester car arsonist's appeal dismissed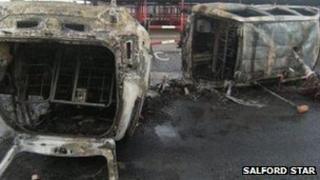 A man jailed for setting fire to a BBC Radio Manchester car in rioting last year has had an appeal against his sentence dismissed.
Zac Challinor, 23, of Wythenshawe, Manchester, torched the car amid rioting at Salford's Shopping City in August last year.
He was jailed for five-and-a-half years after admitting arson and burglary and being convicted of violent disorder.
His appeal was thrown out at the Court of Appeal in London.
Mr Justice Openshaw said the sentence handed down at Manchester Crown Court in January was severe, as intended to be, but not manifestly excessive.