Workers' Memorial Day: Bruce Dempsey's mother pays tribute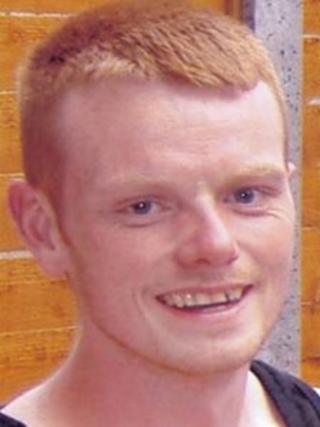 "It never seems real to me. Bruce was 25, he had his whole life ahead of him. And then I remember he's gone."
For Jeanette Letham, her son's death at the factory where he worked is still a painful memory.
Welding engineer Bruce Dempsey from Eccles died in December 2009 when a half-ton metal pressing machine fell from a fork-lift truck at Heavey Engineers in Patricroft, fracturing his skull.
Two years on, his mother lays flowers at his grave in Peel Green cemetery every day to remember him.
Mrs Letham and her two younger sons Jack, 20 and 17-year-old Carl will join a Workers' Memorial Day rally in Manchester later, to further that remembrance.
"The day it happened, we were on our way home and, as we drove past the factory, I saw the police and it was all cordoned off," she said.
"I remember just getting this awful feeling in my stomach and I knew it was him."
'Distressing time'
One of a number of events across the UK, the rally commemorates those people killed at work and promotes campaigns to improve workplace safety.
An inquest at Bolton Coroner's Court in February was told that, moments before his death, Mr Dempsey had been acting as a banksman guiding a fork-lift truck through the factory.
However, the inquest also heard the training offered to fork-lift drivers did not include any advice on the appropriate use of banksmen.
Coroner Jennifer Leeming was so concerned, she reported the verdict to the Health and Safety Executive (HSE) to seek a formal review of the training.
Keith Cundall, of law firm Irwin Mitchell Solicitors, which is representing the Dempsey family, said the inquest raised serious issues for all employers.
"This has been an extremely distressing time for Bruce's family who have lost a much-loved son," he said.
"Employees have a right to expect to be safe at work and to be protected from avoidable risks.
"Bruce's family has to live with their tragic loss, but hope that safety improvements in the industry will prevent accidents like this happening in the future.
Latest figures from the HSE show there were 171 fatal workplace accidents in the UK, in 2010/11.
Hundreds more died as a result of industrial illness such as asbestos-related mesothelioma.
Mrs Letham said employers should be forced to improve safety in the workplace.
"They need to change the law so it doesn't happen again, more serious penalties to make them adhere to the rules," she said.
"Bruce was one of the best people you could ever meet and everyone who knew him though he was wonderful.
"He'd just got himself a flat he was about to move into, he was moving his life forward. It's just so sad.
"Nothing can bring him back but I just hope things can be improved so that others don't have to suffer the pain of losing a family member just because of the work they did."