Greater Manchester councils back plain cigarette packets plan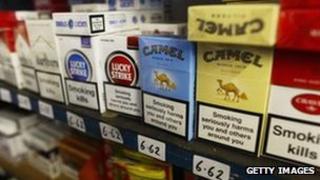 Every council in Greater Manchester has backed calls for cigarettes to be sold in plain packets.
A government consultation is under way over plans to strip all branding from cigarette packs sold in England, to make smoking appear less attractive.
The councils agreed to back the idea at a meeting of the Association of Greater Manchester Authorities (AGMA).
The AGMA's chief executive will now write to the health secretary asking him to bring forward legislation.
Leader of Tameside Council, Kieran Quinn, said the authority wanted to make a "stand" against smoking.
Green packets
"Smoking is still the biggest killer in Greater Manchester, the biggest self-inflicted killer," he said.
"It is wrong and clearly what we're trying to do in Greater Manchester is to put more pressure on the government, more pressure to say this is wrong."
The government launched its consultation on the issue on 16 April.
Australia is currently the only country which has so far agreed to plain packaging.
Its ban starts at the end of this year, although it is subject to a legal challenge by manufacturers.
Packets will be a dark olive green, after the public was asked what the least attractive colour was.
In England, smoking rates have fallen significantly since the link with cancer was established beyond doubt, in the 1950s.
But recently the decline has slowed and the number of adult smokers has hovered above the 21% mark for some time.
Ministers have promised to reduce this to 18.5% by 2015.