Manchester City expansion: Inquiry objections dropped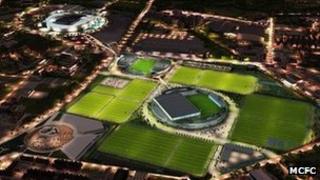 A Manchester United fan and landowner has dropped his opposition to Manchester City's expansion plans.
A planning inquiry, scheduled for four days in Manchester, is continuing despite the absence of any formal objections to the scheme.
Another objection has also been dropped by double glazing firm New Life Windows.
The club plans to build a large academy near its stadium to house a 7,000-seat youth stadium and 17 pitches.
Shaun O'Brien, of OB Truck Services, had divided his land to disrupt any enforcement of a proposed Compulsory Purchase Order.
A council spokesman said both Mr O'Brien and New Life Windows had dropped their formal objections to the planning proposals.
It is understood that the planning inspector is only asking supplementary questions of witnesses and not requiring them to speak to give their evidence.
A site visit is planned for Wednesday.