Labour's Ian Stewart is Salford's first directly-elected mayor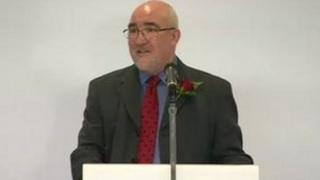 Labour candidate Ian Stewart has become Salford's first directly-elected mayor.
The former MP for Eccles won 23,459 votes - 50.9% of the total - when second preference votes were taken into account.
Karen Garrido, leader of the Tory group on Salford City Council, took 10,071 votes. The turnout for the election was 26.1%.
The newly-elected Mr Stewart called it a "historic day for the historic city of Salford."
He said: "When I stepped off the bus as a six-year-old coming to Salford for the first time I would never have guessed I would be standing here."
In his acceptance speech, Mr Stewart said he wanted to promote "an integrated education system" linked to generating "quality jobs at decent wages".
"We must raise our voice in support for those in Salford who have no voice, there must be tears in our voice for those most in need, there must be defiance in our voice and we must rage against anyone who promotes hate.
"There must also be laughter and joy in our voices and we must share it with each other and with the people of Salford, they deserve no less."
The turnout in the election was declared at 46,054, just over a quarter of the electorate in Salford.
The election went into a second round of counting when it was declared that no candidate had won more than 50% of the vote.
Mr Stewart was declared the winner after second preference votes on the ballot papers of eliminated candidates were taken into consideration.
· All the latest election results are available at bbc.co.uk/vote2012