Man admits theft of dead woman's bag in Manchester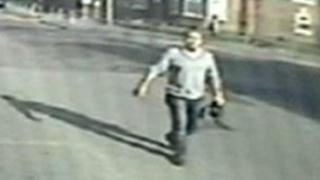 A man has admitted stealing a woman's handbag, minutes after she had been knocked down and killed in Manchester.
Sarwari Ashraf, 62, from Longsight, was hit by a lorry while crossing Upper Brook Street on March 29.
Marc Kirvin, 46, from Altrincham, Trafford, pleaded guilty to theft by finding at Manchester Magistrates' Court and will be sentenced in June.
Prosecutors accepted Kirvin was not aware the accident had taken place. The accident is still being investigated
Her body was carried 130m from where her handbag and shoes landed in the middle of a junction.
The court heard Kirvin, who was in a passing car, jumped out and grabbed the bag shortly after the incident.
Kirvin pocketed £1,600 in cash and split the sum with his co-accused who was driving the vehicle.
The pair drove off, with the pair later dumping shoes and the bag belonging to Ms Ashraf in a bin, causing a delay in her body being identified.
'Heartache and sadness'
Kirvin was only caught after a phone call to Crimestoppers following the CCTV clip being made public.
During a police interview, he said he took the bag "out of greed", but could not explain why he took the shoes.
His share of the money was found by police at his home, as he told officers "he could not bring himself to spend it".
In a statement, Mrs Ashraf's son Nadeem said the disappearance of the handbag - which is still missing - had prolonged their anguish.
He said: "We cannot express in words the heartache and sadness that the offence has caused."
The sentencing of the two was moved, due to his co-accused being in hospital recovering from a car accident.