Man dies in house fire in Radcliffe, Greater Manchester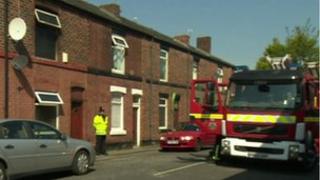 A 43-year-old man has died in a house fire in Greater Manchester.
The fire broke out at about 01:30 BST on the ground floor of a mid-terraced house on Coomassie Street, Radcliffe.
A 44-year-old woman and an eight-month-old girl managed to escape from the house and were taken to hospital for treatment.
A four-year-old boy from a neighbouring property received treatment after inhaling smoke and a firefighter was treated for blistering to his arms.