Waqar Alyas: 'Errors' in fatal police chase crash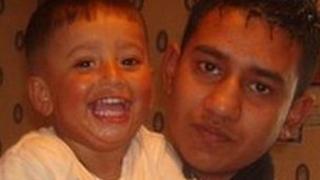 The police watchdog has raised concerns about "errors" in a pursuit in which a Greater Manchester teenager died when his car hit a tree.
Last Friday a verdict of accidental death was recorded on Waqar Alyas, 17, from Oldham, who crashed in Ashton-Under-Lyne on 30 July 2010.
The Independent Police Complaints Commission investigated and found there were errors in the pursuit.
Greater Manchester Police (GMP) said it had revised its policies.
The commission said Mr Alyas was spotted driving a Ford Focus, which belonged to a family member, without headlights on Park Road in Oldham by a PC who was driving a marked Land Rover Freelander.
The PC started to pursue the teenager, who held a provisional licence and was driving without the owner's permission, when he failed to stop.
He was joined by a sergeant in a high powered marked Vauxhall Vectra, who overtook the Freelander at 70mph on the wrong side of the road.
The chase lasted two minutes before the Focus hit a tree while trying to turn left at the junction of Ashton Road and Springwood Way in Ashton-Under-Lyne.
The officers pulled the teenager from the burning car, but he was pronounced dead at 03:30 GMT in Tameside Hospital.
The Independent Police Complaints Commission (IPCC) said the Freelander driver was only trained to be involved in the first stage of a pursuit and the vehicle should not have been driven in the chase.
The report concluded:
The PC in the Land Rover should not have started the chase
The sergeant's pursuit was "of concern" as he drove at speed on the wrong side of the road on a blind corner
The sergeant was at one point within approximately 23m (75ft) of the Ford Focus while travelling at 62mph. The safe stopping distance for an advanced police driver travelling at 60mph is calculated as 57m (186ft).
IPCC Commissioner Naseem Malik sympathised with Mr Alyas' family, adding: "It is tragic that a split second decision not to stop resulted in such a terrible outcome."
He stated: "Our investigation has shown there were errors in the way this pursuit was conducted."
Mr Malik said the officer driving the Land Rover Freelander was unaware of a 2007 IPCC recommendation accepted by all forces that four wheel drive vehicles should not be used in pursuits.
GMP should ensure the "message is reinforced to all its drivers", he said.
A GMP statement said the pursuit was conducted by appropriately trained officers and the force had improved training and revised its policy since the incident.
"Police pursuits will always be the subject of public debate due to the risks inherently involved when members of the public fail to stop for officers," it added.