Council concern at scale of BAE Woodford housing plans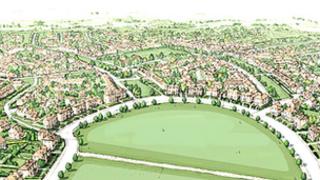 A leading councillor has spoken of his concern over a housing development on the site of the former BAE Systems' Woodford plant.
Councillor Ian Roberts, Stockport's executive member for regeneration, said the 950-home development was bigger than councillors "were led to expect".
The site, where the Nimrod jets were built, was sold for £100m to developer Avro Heritage Limited in December.
The proposal also includes a new primary school and a heritage centre.
An Avro spokesman said the company would not be commenting and nobody from partner firm Harrow Estates was available for comment.
The plant closed earlier in the year after the Ministry of Defence axed the Nimrod project as part of government defence cuts.
Avro Heritage Ltd is half-owned by Joe Bamford, the heir to the JCB empire.
Mr Roberts said: "It is quite different from what we were originally led to expect when Joe Bamford bought the site.
'Very cautious'
"The impression given when the site was bought was for a far smaller housing development. The proposal now is for a far larger housing development and we need to take that on board."
He added: "The plans are interesting. I think there are a lot of positive things in there, but I am certainly very cautious about it."
The proposed Woodford Garden Village includes a new school, children's play area, and a heritage centre, which will house the historical Avro Vulcan aircraft.
Local residents are able to view the proposals for two days ending on Saturday.
Stockport and Cheshire East Councils will then draft a supplementary planning document and once published, it will be subject to a six-week consultation period.
The Woodford site has been linked to aviation since 1924 and more than 20,000 aircraft have been built at the site, including the Lancaster Bomber, Canberra, Vulcan, Nimrod and Avro jets.