Stockport's £100k boost as Mary Portas pilot town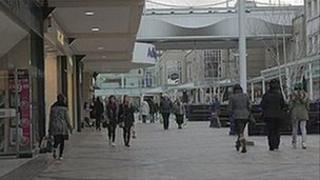 Stockport is hoping to rejuvenate its town centre with a £100,000 government grant and help from retail guru Mary Portas.
It is one of 12 pilot towns in the UK selected to trial proposals put forward in the Portas review of high streets.
Stockport has the highest number of empty shops among large towns in the UK, according to a recent report.
Brothers Tom and Joe Barratt, who led the bid, said the money was a "big boost".
'Creative vibe'
Joe Barratt, 19, who runs Screen Stockport film festival, produced a film for the successful Portas Pilot bid with his 17-year-old brother Tom, who runs the Teenage Market.
It focused on rejuvenating the markets and underbanks area and creating a digital and visual arts centre.
Joe Barratt said: "It's fantastic news for the town. We want to bring a creative vibe to the town."
He added: "We want to make coming to Stockport an experience rather than just a shopping trip and get more people into the town."
Stockport Labour MP Ann Coffey said becoming a Portas pilot town had given the town "a real buzz and sense of excitement" and visitors to Stockport would benefit from a "more exciting and diverse experience" following the improvements.
She said: "The bid was very much investing in developing Stockport as a centre for creative talents and the market being part of that was enabling people to sell goods they have made on the market."
All 12 towns selected will be featured in a TV show following the progress of the Portas pilot.
The government announced in March it had accepted "virtually all" 28 recommendations made in Portas' report on how best to regenerate high streets.
In February, the Local Data Company published its annual shop vacancy report and claimed more than 30% of Stockport's shops were empty.