Manchester Poverty Commission meets for first time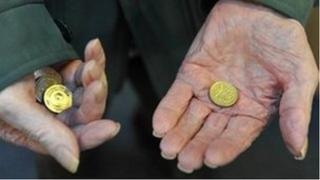 People living in poverty in Greater Manchester are telling their stories to MPs and faith groups at the first meeting of the Poverty Commission.
The commission was set up to look at the extent and impact of poverty in the region and look for possible solutions.
It consists of 10 hearings, chaired by Bishop of Manchester Rev Nigel McCulloch, between May and September.
The aim is to gather evidence of what is happening to people to help formulate ideas for policy change.
Shaw Road in Oldham, Kirkholt in Rochdale and Manchester's Collyhurst were named among the 10 poorest places in England earlier this month by The Church Urban Fund.
The commission is made up of 10 cross-party MPs and representatives from the voluntary, community and faith sector.
Councillor Paul Murphy, Chair of Greater Manchester Police Authority, is also on the panel.
He said a change in the employment market was largely responsible for falling incomes.
"What we will do is gather evidence," he said. "We will speak with people. There are quite a lot of people who are working and they're finding it very, very difficult to make ends meet.
"Fifty years ago there were factories out there and people were able to get jobs and could walk from job to job."
He added: "People have just simply been left to get on with it themselves.
"It seems to me that what we need is a bit of positive discrimination, in these areas, that we actually say that when we are looking to bring manufacturing or bring jobs back, then we need to discriminate in these areas where poverty is greatest."