Eleven arrested at Rochdale EDL protest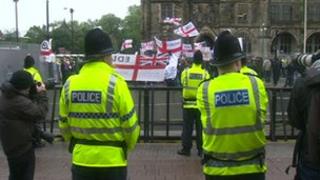 Eleven people have been arrested for public order offences during a protest in Rochdale by the English Defence League (EDL), police said.
About 400 EDL supporters were at the demo, which followed the conviction of a group of men of Pakistani and Afghan origin for child-grooming offences.
There was a heavy police presence with some 500 officers on duty.
Greater Manchester Police's Ch Supt John O'Hare said 11 arrests was "not uncommon for an event of that size".
He added: "I do think it is testament to the organisers themselves who worked with us to ensure the event passed off as peacefully as possible."