Mobility scooter pensioner saved from Atherton pond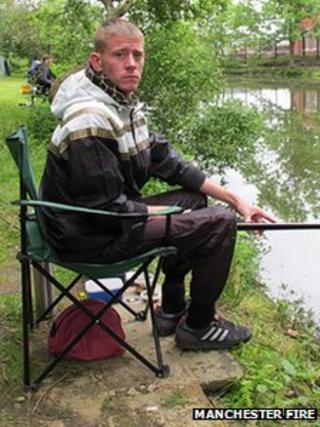 An angler was rescued from a pond in Greater Manchester by a fellow fisherman after his mobility scooter went over the edge.
Aaron Hitchen, 26, jumped in after seeing the 71-year-old's scooter tip into Ena Mill Pool at Flapper Fold Lane, Atherton, on Wednesday.
Mr Hitchin said he had acted on "instinct" and had done "what anybody else would have done".
The pensioner was taken to hospital and treated for head and wrist injuries.
Mr Hitchen said he had been at the pond, which lies near Atherton Fire Station, for "a couple of hours" when the incident happened.
"This guy came on to the pond, got close to the edge, hit a pot hole and it sent him straight in," he said.
"I just saw him go and it was instinct. He was trapped by his cardigan on the basket of the scooter so I got rid of it, got his hand and got him out.
"It was a bit of a shock and he could have drowned if there'd been nobody around as he went right under - but I just did what anybody else would have done."
Once he had pulled the man from the water, Mr Hitchen ran to the fire station for help.
Watch Manager Russ Corden said he called an ambulance to the scene while one firefighter gave the pensioner first aid and others removed his scooter from the water.
David Acton, the chair of Greater Manchester Fire and Rescue Authority, praised Mr Hitchen's actions.
"Aaron did a brilliant job acting quickly to get this man out of the water and then thinking to run and get our crews, who were able to take over and treat the man until the ambulance arrived," he said.