Salford Council approves Asda store on graveyard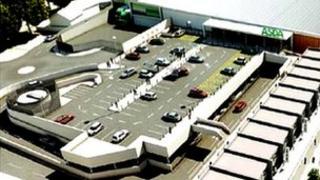 Salford Council has approved a plan for a new Asda store which will involve digging up a graveyard.
The Asda in Swinton would be built over an old graveyard next to the former Swinton Unitarian Church.
Campaigners claimed the plan showed a lack of respect to the last wishes of those buried in the area, which is a 100ft (30m) square grassy knoll.
Moving the graves needs Ministry of Justice approval. Asda would re-inter the bodies at Swinton Cemetery.
Michael Moulding, of the Community Action Party, which is leading the campaign to stop the removal, said: "This is the final resting place of the people buried here."
He said The Friends of Swinton Unitarian group was considering whether to apply for a judicial review of the plan.
But local councillor and planning committee member Derek Antrobus said the site, which has 330 graves, had been neglected for more than 30 years.
He added: "When I look at the site which is a patch of grass used by dog walkers and is sandwiched between a shop and two pubs and three car parks I think the proposal of Asda to move the bodies to Swinton Cemetery, where they will be in a proper grave for the first time, will be a considerable improvement."
An Asda spokesman said it would pay for the graves to be moved and would consult with relatives on the kind of memorials to be put in place.
The burial site includes three victims of the 1885 Clifton pit disaster - a mine explosion which claimed 178 lives.
The Friends of Swinton Unitarian wants Asda to create a memorial garden on the site of the graveyard.