Jail for man who stole bag from dead Manchester woman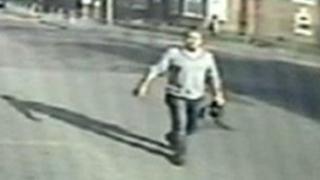 A man who admitted stealing a woman's shoes and handbag, minutes after she had been knocked down and killed, has been jailed for four months.
Marc Kirvin, 46, from Altrincham, Trafford, admitted theft at Manchester Magistrates' Court in May.
Sarwari Ashraf, 62, from Longsight, was hit by a lorry while crossing Upper Brook Street in Manchester on 29 March.
Prosecutors accepted Kirvin was not aware the accident had taken place. The accident is still being investigated.
The woman's body was carried 130m from where her handbag and shoes landed in the middle of a junction.
Magistrates heard Kirvin, who was in a passing car, jumped out and grabbed the bag shortly after the incident.
Kirvin pocketed £1,600 in cash.
He drove off and later dumped shoes and the bag belonging to Ms Ashraf in a bin, causing a delay in her body being identified.
Kirvin was only caught after a phone call to Crimestoppers following the CCTV clip being made public.
During a police interview, he said he took the bag "out of greed", but could not explain why he took the shoes.
His share of the money was found by police at his home, as he told officers "he could not bring himself to spend it".