Mother of boy injured in Bolton fire cautioned for neglect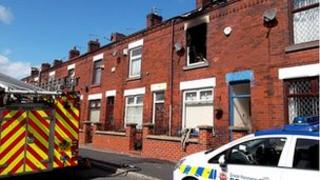 A mother whose son was seriously hurt in a fire after he was left alone at home has been cautioned by police for child neglect.
Police said the 25-year-old woman had left the house for "a matter of minutes" when the blaze broke out on Longden Street in Halliwell, Bolton.
The three-year-old boy, who was rescued along with his one-year-old sister, was treated in hospital for his injuries.
Det Con Maggie Lane said the woman had made "an error of judgement".
Police and fire crews found the fire had not been started deliberately.
The boy was found in an upstairs room of the house on Monday evening after his sister had been rescued.
Firefighters treated him for the effects of smoke inhalation before paramedics took over. Both children were taken to Royal Bolton Hospital and were later released.
Ms Lane said "any action that we have or could have taken will not come close to the amount of guilt and remorse she is feeling".
"Thankfully the children were not badly injured," she said.
"I hope this makes people realise that just leaving children alone for a matter of minutes could have devastating effects."