Oldham explosion: 'We are the lucky ones'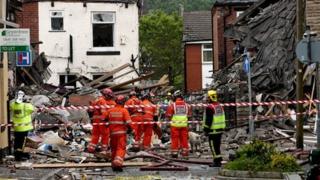 Left with just the clothes they stand in, the residents of Buckley Street look past the police cordon to their homes.
Hundreds of people who were evacuated in Shaw, Oldham, following the suspected gas blast on Tuesday have woken to a day of uncertainty as police and fire teams assess whether more houses will need to be demolished.
Despite their own losses, residents' thoughts are with the family of two-year-old Jamie Heaton who died in the explosion.
Jessica Bromley, 18, was asleep in her nearby Oak Street home when the explosion happened.
"I thought the boiler had blown up, I got up and the window had been blown in and I had glass in my hair. I heard someone screaming for Jamie," she said.
"I looked to where his house was and thought it had been bombed.
"I ran downstairs, got my sister and told her to get out."
Councillor Jean Stretton, who came to speak to residents at the scene, said: "I spoke to one lady who has lost everything and her thoughts were just with the family of the baby. She said we're the lucky ones.
"But it's terrible to have lost things you can't replace - your children's toys, pictures. People are very anxious."
Chris Taylor, 25, said he was desperate to get back to his house, which is on the same street as the blast, to see whether his two kittens were still alive.
He said: "I was at work and got a phone call saying there had been a blast. I've got two young kittens and my first thought was for their safety so I rushed home but the cordons were up and I couldn't get anywhere near.
"I've got nothing, just the clothes on my back, and I've got no contents insurance, but luckily I do have very supportive friends.
"But everything else is bricks and mortar, I just want to know what's going on with my kittens and when we'll be allowed back in our houses."
Lisa Navesey, 42, and her husband Lee, 46, of Gordon Street, said their main concern was for their two dogs Charlie and Crystal.
"We don't know if the dogs are alive," Mrs Navesey said.
"I know there's other things going on but you can't just forget about them. I just want to get the dogs out. We're waiting for the RSPCA to see if they can go in and get them.
She said they have not got any money on them so "someone else had to pay for my daughter to get to school this morning".
"It's just devastating - we have lived here all our lives and just want our lives back to normal but it's going to take time," Mrs Navesey said.
The council said one of its first jobs would be to reunite people with their pets.
The community of Shaw has rallied round to help those affected, with local shops setting up donation buckets and a steady stream of people taking bags of spare clothes to the refuge centre at Crompton House school.
Leigh Wittaker, 21, of Rochdale Road, was one of those donating clothes. She said: "It happened near my dad's house and I didn't know whether my dad was alive or not. It's just awful, it's so sad.
"I've seen people walking around in their pyjamas because they can't get back in their houses, so I thought I'd get some clothes together for them."
The Red Cross has sent volunteers to the refuge centre, where about 50 people spent the first evening.
Oldham Council is setting up a mayoral fund after being inundated with calls from people wanting to donate money.
Ms Stretton said: "People have been approaching me in the street giving me things like prams and offering caravans. Everyone wants to do their bit, everyone's shocked.
"We don't yet know the extent of the damage and there will be people who will not be going home as more [houses] could be unsafe."