Oldham explosion: Boiler man arrested over blast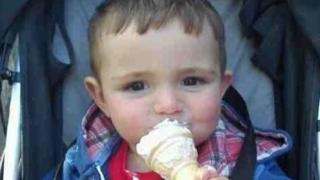 A man who inspected the boiler of the house which exploded in Oldham has been arrested on suspicion of manslaughter, police have confirmed.
Greater Manchester Police (GMP) said the man was held in London but his arrest was "only one line of inquiry". He has since been released on bail.
Oldham Council said nearby residents will be allowed to return to their homes in Shaw in a phased process.
Two-year-old Jamie Heaton died watching television at his home on Tuesday.
His neighbour on Buckley Street, Andrew Partington, 27, suffered severe burns in the suspected gas explosion.
A GMP statement said: "We believe the man may have attended one of the properties in relation to the upkeep of the boiler and for that reason we need to speak to him. It is important that the media and local community do not jump to conclusions or speculate about this arrest."
Assistant Chief Constable Steve Heywood said the arrested man, who was brought to Manchester, was a 32-year-old resident of Shaw but did not live in Buckley Street.
He has been bailed until 9 August pending further inquiries.
'Shocking situation'
When asked if the man was a gas fitter, Mr Heywood responded: "There is speculation in the community that he was involved in some form of maintenance.
"That appears to be our understanding as well."
But he added: "I would stress that is only one line of a number of lines of inquiry."
The Bishop of Middleton the Right Reverend Mark Davies is leading prayers at Saint James's parish church, which is not far from the scene of the explosion.
A steady stream of people have been signing a book of condolence which was opened earlier.
People will be able to sign the book again from 18:00 to 19:00 BST.
The parish vicar, the Rev Lynne Connolly, said: "This is a shocking situation. The prayers of all the churches and centres of worship in Shaw are with the bereaved family and all those who have been affected by this tragedy.
"It's a devastating situation for anyone to go through. I am offering prayerful support, and being a presence in the community.
"And our thoughts and prayers are with all those who have been affected in any way and especially with the family of Jamie Heaton who has died."
Jamie's mother Michelle had been in the back yard at the time of the explosion, hanging out washing.
Her husband Kenny and two other children, Jodie and Jack, were not at home.
Police are also waiting to question Mr Partington. Officers said they had "significant questions" to put to him.
Officers are at his bedside at Wythenshawe Hospital in Manchester waiting to be given the go-ahead by doctors to question him. They said he remained in a serious but stable condition.
The massive explosion at about 11:15 BST destroyed number 11 Buckley Street, where Jamie lived, and number nine, where Mr Partington lived.
It is understood Mr Partington had only moved into the property about six weeks ago.
Flowers were left in tribute at the edge of the police cordon which is still in place around the devastated streets.
Sean Booth, area manager for Greater Manchester Fire and Rescue Service, said some residents would be allowed to return after a structural assessment of houses affected by the explosion.
"Others have significant damage and again residents will be able to gain access, but that will only be while escorted by a police or fire officer," he added.
"Other properties will not be able to be accessed because they have significant structural damage which makes them unsafe for anyone to enter."