Anuj Bidve murder trial: Accused 'hid in nearby hotel'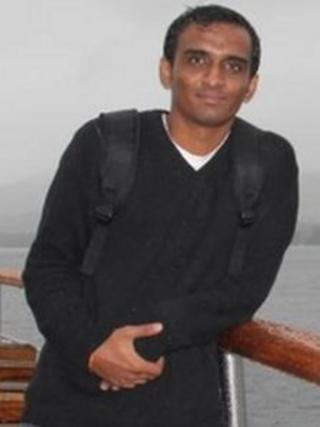 The man accused of murdering Anuj Bidve checked into a hotel overlooking the scene the day after the shooting, Manchester Crown Court has heard.
The Indian student, 23, was shot in the head at close range as he walked down Ordsall Lane on 26 December.
The court heard Kiaran Stapleton, of Regent Square, Ordsall, booked into the Campanile Hotel on Regent Road.
Mr Stapleton, 21, admits manslaughter due to diminished responsibility but denies murder.
The jury was told a number of Blackberry messages were sent between the defendant and Ryan Holden, who was with Mr Stapleton on the night of the shooting.
Mr Holden was initially arrested as a suspect but is now a witness for the prosecution.
'Won't find you'
The court heard they discussed a number of people being arrested and speculated whether they would be next.
In one exchange, Mr Holden wrote: "You are off it, they won't find you there."
Mr Stapleton replied: "I hope they don't, I wish I had more money to base myself there two days or summat."
The court heard Mr Stapleton left the hotel at various times to buy alcohol, with two men and their girlfriends visiting him in the evening.
Mr Stapleton later sent Mr Holden a further message, saying: "Just on my way back and three armed jeeps at Sainsbos."
Mr Holden then replied, asking if he was seen.
Mr Stapleton said: "I was on my bike, man".
'Watching hotel television'
The jury was told Mr Holden sent a message to Mr Stapleton saying he thought police were outside his house and so he was going to delete Mr Stapleton's phone number.
At about 01:35 GMT the next day, Mr Holden was arrested by armed officers at an address in Salford.
CCTV images at the hotel captured Mr Stapleton coming down from his room for breakfast and reading a newspaper.
He was also pictured looking out of the hotel window on several occasions.
Material recovered from Mr Stapleton's mobile phone included a photo of himself sitting smiling on a hotel bed wearing a bathrobe.
After leaving the hotel for a short while, Mr Stapleton returned and was seen watching the hotel television in the bar.
He checked out of the hotel at about 13:45 GMT and was picked up in a white vehicle.
Teardrop tattoo
The court was told he was arrested by armed police at 01:30 GMT on 29 December at a house in Rugby Road in Leigh, Greater Manchester.
Upon his arrest, Mr Stapleton said: "You are just pulling in everyone from the area, I have got a job me, I work nights, I was in the area."
The court heard he had a teardrop tattoo inked on his face two days after the shooting, which can signify the wearer has killed someone.
Former police officer Mark Fish, who now runs the parlour where Mr Stapleton paid for the tattoo, said the defendant was the only person in his time at the shop in Swinton who had asked for such a tattoo.
He said in the past it signified someone who had been released from borstal but more recently was known as a marking to state the wearer had killed somebody.
After he was charged with Mr Bidve's murder, the defendant appeared before magistrates in Manchester and gave his name as "Psycho Stapleton".
The student had been walking from a hotel in Salford, where he and friends had been staying for Christmas, when he was killed.
They had been going to the sales in Manchester city centre in the early hours of Boxing Day.
Mr Bidve's parents, Subhash and Yogini, have flown from their home in Pune, India, to attend the trial, which is scheduled to last up to four weeks.
The trial continues.