Great Manchester Swim: Thousands dip into Salford Quays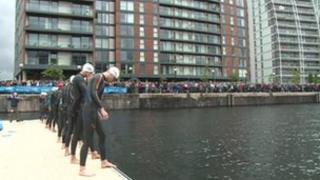 More than 3,000 swimmers are taking to the waters of Salford Quays for the Great Manchester Swim.
The mile-long (1.6km) race attracts some of the world's top open water swimmers and also members of the public.
It is a dock-to-dock course which starts near The Lowry before finishing near the Salford Water Sports Centre.
Spectators are able to walk along the dockside following swimmers around the course.
Taking part this year are top open water swimmers World Champion 5k bronze medallist Chad Ho, of South Africa; 1500m Champion Sebastian Roulault of France, and undefeated German National 5k Champion Isabelle Haerle.
The Czech Republic's Jana Pechanova, who took first place at the women's elite race in the Great North Swim, will also participate.
The annual wetsuit-only event started in 2010.
People going along to the event between 08:00 to 17:00 BST will also be able to see cooking demonstrations from Masterchef's Aiden Byrne, and watch live music and entertainment.