Oldham explosion: Eleven homes to be demolished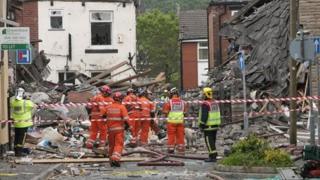 At least 11 homes will have to be demolished on the street where an explosion killed a two-year-old child.
Jamie Heaton died and Andrew Partington, 27, suffered serious burns in the blast in Buckley Street which destroyed two terraced houses.
Eight days on, 38 homes are still cordoned off and a significant number of those will be knocked down, Oldham Council said.
A hardship fund has been set up for families unable to go home.
Council leader Jim McMahon said: "The layout of the houses is interdependent - once you demolish one it calls into question the stability of the next."
'Heart-warming response'
He said many of the affected families had been staying with relatives or in hotels, and added: "We need to get people into permanent accommodation if they are never going to return.
"It's obviously a very difficult time for people, but we are doing what we can."
Engineers are still assessing the damage to homes around the blast site.
Families facing severe hardship are now able to apply to the Oldham Distress Fund , which has been "overwhelmed" with donations, the council said.
Mr McMahon added: "It's been heart-warming to see the response, but we don't want people to think everyday life has returned because for many people it hasn't, and we need people to keep donating."
Janet Pereira, of neighbouring Edmund Street, has been unable to return home and her family have been scattered across Greater Manchester.
She said the kindness of others had helped her to cope, adding: "It's a devastating thing that's happened but the community's come together and everybody's helping everybody."
'Happy little boy'
Some 175 homes were evacuated immediately after the suspected gas blast.
Jamie died while watching TV at home but his mother survived after stepping out to hang out washing in the yard.
On Friday, Jamie's parents Michelle and Ken visited the scene of the blast to look at messages and flowers left in tribute to him.
The couple described him as "a happy little boy, mischievous and full of life".
Mr Partington remains unconscious and sedated at Wythenshawe Hospital.
A local man who inspected a boiler in the house where the explosion happened was freed on police bail on Thursday, following his arrest on suspicion of manslaughter.
Greater Manchester Police said the man was held in London but his arrest was "only one line of inquiry".